George Harrison and Ravi Shankar's Concert For Bangladesh 35th Anniversary Commemorated Today at Madison Square Garden
Tuesday August 1, 2006
http://biz.yahoo.com/iw/060801/0149844.html
Jay Marciano presents Olivia Harrison a plaque to be placed in Madison Square Garden's "Walk of Fame" commemorating the 35th Anniversary of Concert For Bangladesh.
NEW YORK, NY- Today marks the 35th Anniversary of George Harrison and Ravi Shankar's Concert For Bangladesh. The concert took place on August 1st, 1971 at New York City's Madison Square Garden. The show featured performances by George, Ravi Shankar, Bob Dylan, Eric Clapton, Ringo Starr, Leon Russell and Billy Preston.
Olivia Harrison said, "The 30th anniversary was very much on George's mind back in 2001 and I am honoured to have helped complete the project on his behalf. We have done our best to maximize the effort they made all those years ago, which has not only benefited thousands of people but became a model for charitable events over the last three decades. This anniversary re-issue has generated more funds for UNICEF, as well as renewed the recognition I think George and Ravi deserve for responding to the humanitarian crisis of that time."
"When new Bangla Desh was born and hundreds of thousands of refugees started pouring into India, I was so pained seeing the suffering of these innocent people and my heart went out to them," added Ravi Shankar. "I wanted to help in whatever way I could and do something to raise money for the refugees. I was going to arrange a concert and play myself with perhaps a few friends. Dear George was in Los Angeles at that time and was visiting me. He saw the pain and anguish in me and was very concerned. I explained to George what was happening and asked for his help. Seeing my plight, he started to phone everyone. What happened afterwards is history. One day, no one knew of Bangla Desh and the next day the whole world was talking about it. Concert For Bangla Desh is very close to my heart as it was my conception and baby, and thanks to George it became as big as it did!"
"The Concert For Bangladesh - George Harrison & Friends," released on DVD and CD last autumn, was recently certified 3 times platinum by the RIAA. All artists' royalties from the sales of the DVD and the CD continue to go to UNICEF. In commemoration, Ravi Shankar and Ringo Starr were presented with plaques, in New York and Los Angeles respectively.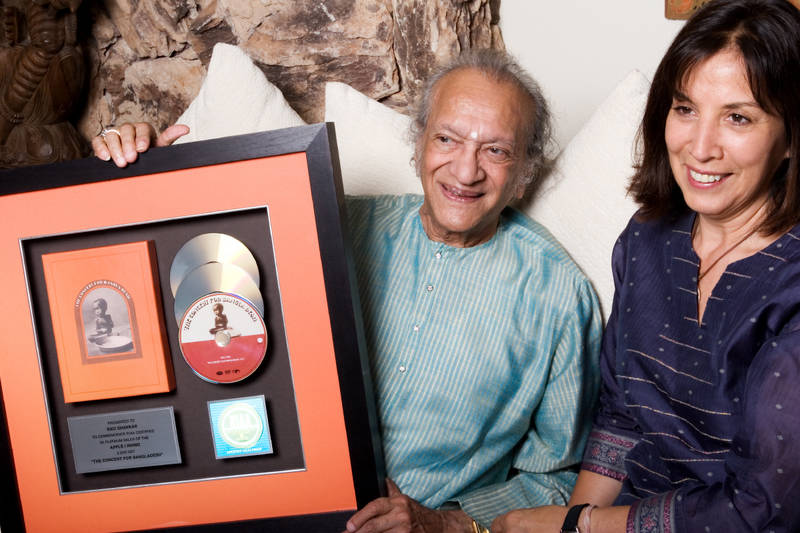 Ravi Shankar and Olivia Harrison .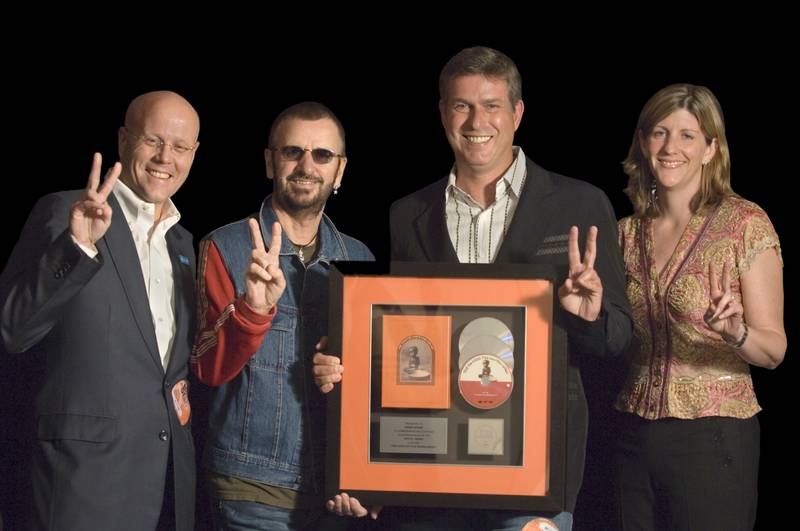 Left to right: Chip Lyons UNICEF, Ringo Starr, Scott Pascucci President, Rhino Entertainment and Melissa Ormond from Madison Square Garden.
"UNICEF is honored to have been a part of this Concert and proud that 35 years later we are celebrating the humanitarian work of George Harrison," said Chip Lyons, President of US Fund for UNICEF. "Children's lives, in Bangladesh and beyond, have been saved and improved thanks to the funds raised by The Concert For Bangladesh."
Madison Square Garden has also marked the day with a permanent plaque commemorating the 35th Anniversary of the Concert For Bangladesh in their "Walk of Fame."
"In 1971, at the behest of Ravi Shankar, when George Harrison pulled together musicians like Bob Dylan, fellow Beatle Ringo Starr and Eric Clapton to perform at Madison Square Garden for The Concert For Bangladesh, he created the template for all of the many music benefits that have followed," said Jay Marciano, president, MSG Entertainment. "We are proud to commemorate the 35th anniversary of the Concert For Bangladesh on our Walk of Fame. Today, August 1st, the concert anniversary, George Harrison's wife, Olivia Harrison, is here to help us remember how music can help create change. It's events and benefits like these that make Madison Square Garden such a special place for both artists and fans."
Presented to Mrs. Harrison today, who said, "It is truly heartening that the significance of The Concert For Bangladesh -- and the pioneering spirit of George, Ravi Shankar and their friends, still resonates after 35 years."